Hindusthan Educational and Charitable Trust, one of the finest in education and teaching is strategically placed in the heart of the city, and since 1992 has established itself firmly in the fields of Arts, Science, Education and Technical Education. The Trust aims at providing education that is world-class and on par with global standards. The Trust firmly believes in education from "Pre-KG to Ph.D" and is true to its motto – 'Get the best in everything'.
The Management has always stood by its commitment to the betterment of the student community and had at first established itself as a brand in the 'power sector', and today in the field of Education has reigned supreme with the 'Life Time Education Achievement Award' for giving back to society. The Management believes in leading and has set new trends/ innovative training methodologies in all its Institutions that will assist students towards the road to success.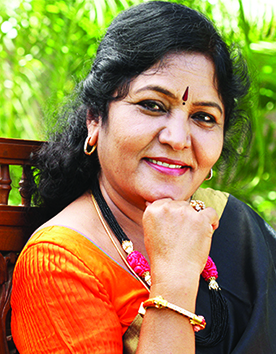 Managing Trustee
Smt. Sarasuwathi Khannaiyann's
Smt. Sarasuwathi Khannaiyann's hardwork to see big pictures and not getting stuck with ego has made her the legend in the success story of Hindusthan Educational Institutions. Her multi skill personality, with administrative power has made her an icon among women in managing educational affairs. She believes that whatever we do should be done with passion and this has earned her the 'Best Women Entrepreneur' of Coimbatore in 2006. Her individual achievement has been recognized through the 'Rajiv Gandhi Shiromani' award and 'Bharat Gavrar and Sadbhavana' award in 2010 for her distinguished service to the nation.
Executive Trustee & Secretary
Mrs. Priya Satish Prabhu
Mrs. Priya Satish Prabhu an engineer with an MBA, is a pleasant and pleasing personality with high managerial skills. Her respect for human values and encouragement for innovative ideas is an important factor for the growth of Hindusthan Educational Institutions. Her effort in empowering and employing the youth should be highly appreciated. As a young women icon, she leads the academics with confidence and courage.